Servizi

Software selection

Business Process & Solutions
Software selection
ERP systems are tools which support the business and the abundance of solutions on the market can suit many needs.
The critical issues are to assess, explain and understand the current and future needs of the company, and so select a product able to satisfy them in a shared and conscious manner.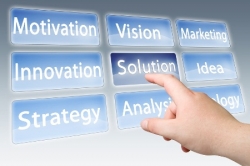 The introduction of an ERP system or a departmental product should not be a constraint, but an instrument on which base the business process improvement should be based.
The starting point for an effective software selection is an accurate assessment of current organizational and informational needs and expectations.

Multiconsult design the software selection process into two stages:
Analysis of functional requirements

Analysis of functional requirements
Multiconsult performs a mapping of business processes with the dual objective of capturing improvement's ideas and draw up a document that contains the customer's needs explicitly.
The result of the analysis is the Functional and Technical Specifications, the fundamental document on which it's based the software selection activity and the following implementation project is based.

The Functional and technical specifications:
Clearly describe the processes managed within the company which are interested in the implementation of the ERP system or departmental
Highlights the most important information requirements
Allow an objective comparison of several ERP systems
Enable to quantify the burden of the implementation project and sign a "turnkey" contract for the implementation of the ERP system or departmental

Software evaluation
The ERP selection is based on the analytical work already performed.
Multiconsult identifies with customers the products and partners that may be adequate to meet the requirements gathered in the Technical and Functional Specifications.

Partners are invited to present their product by a demo based on the company's processes described in the Technical and Functional Specifications, using real data provided by the company, in order to allow the client the best possible understanding of the requirement's coverage.
Multiconsult supports the customer in the rating of solutions and partners:
evaluating the coverage of different systems
homogenizing and evaluating the economic offers

Multiconsult also supports clients in commercial negotiations with the selected implementation partner and support in drafting a "turnkey"contract.s
MORE
SEND TO